Japanese Ryokan Reed Diffuser (180ml)
RM119.90 MYR RM119.90 MYR
Japanese Ryokan Scent
Experience the rustic zen of a traditional Japanese hotel. The Japanese Ryokan scent was designed for quiet and contemplative moments. Lavender notes represent the calm of a secluded Ryokan nestled away in a rural Osaka village. Musky notes of Amber and the spring-like freshness of Lily of the Valley are reminiscent of the surrounding natural hot springs. Base notes of Sandalwood mimic the Ryokan's natural wood interiors and surrounding forests.
Reed diffusers are an easy and elegant way to fine-tune your home. Pristine's long-lasting scent helps to make your home feel clean and refreshed. Every box of Pristine Aroma Reed Diffusers includes 5x reeds and one bottle of pre-filled fragrance oil (180ml).
It can last up to 3-4 months. The shelf life is 12 months after opening the packaging.
Learn more about the inspiration behind the Japanese Ryokan Scent here.
Instructions

Insert reeds into the bottle. The reeds will absorb the oil the diffuse the scent into the air. The diffuser will achieve the total result in 12 hours. Flip the reeds for more fragrance.
Do not burn.

Customer Reviews
06/15/2022
Pauline

Malaysia
06/15/2022
Anne

Malaysia
calming and elegant smell
This scent is actually the previous Shangri-La hotel series. So was glad that this scent was not discontinued just under a different name. Been using this scent for some time already and love it's calming and elegant scent. Delivery was fast and packed with care. Recommended!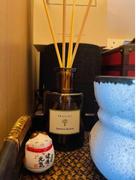 06/14/2022
raymond

Malaysia
smell nice
Item is as described. Well packaged. Nice box. In my bathroom, the diffuser works well. Ryokan fragrance smells good